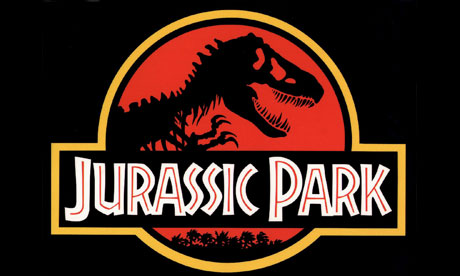 With the cinema release of Jurassic World just around the corner, we thought that this would be a great time to revisit the book that inspired it all, Michael Crichton's worldwide bestseller Jurassic Park.
As wonderful as Steven Spielberg's adaptation of the Jurassic Park novel was, there were a number of things that the film missed out and/or dramatically changed, things that people who have only ever seen the Jurassic Park films will have no idea about. So, grab your raptor claw and come with us on a journey through the differences between the book and movie versions of Jurassic Park by Michael Crichton…
The Compys from The Lost World are more important than you think…
Do you remember those chicken-like fellows from the Jurassic Park film's sequel, The Lost World? Remember? They had more than a playful nibble on a little girl at the beginning of the film and make a real mess of the guy from Prison Break when he decides to tase one in the face… Well, the Compys (or Compsognathus if you're that way inclined) play a huge part in the Jurassic Park book but aren't seen in the film at all. They do, however, have quite an impact in the Jurassic Park on-screen sequel…
John Hammond isn't the nice guy, he's actually a real piece of work
You can see him in your mind's eye right now can't you: his Santa-esque beard; his soft, white shirt and trousers combo; his amber-topped walking stick; his playful, ageless smile. Well, John Hammond is not quite the big softy he is in the film in Crichton's Jurassic Park book. In the film he comes across as a billionaire CEO turned philanthropist, but in the book he is more like a cold, heartless, ruthless Walt Disney. Despite all this, though, Richard Attenborough's poor attempt at a Scottish accent is much more hate-worthy than the actions of his literary counterpart.
Tim and Lex are different ages – and different characters
If you haven't read Michael Crichton's bestseller, you probably won't know that Tim and Lex are completely different to what actors Joseph Mazzello and Ariana Richards portrayed in the film. Lex is a bit more of an outgoing, sporty type and is aged just seven or eight in the Jurassic Park book; and Tim is about 11 years old, wears glasses and is more of hacker-type intellectual than a bookworm. While we're all for sticking to the original material of the book, we can't help but love a bookworm!
Remember Donald Gennaro? He isn't nearly as cowardly
In the Jurassic Park movie, Donald Gennaro meets a very unfortunate and cowardly end: chomped by a T. rex as he hides in the beach shack-themed outdoor lavatory (we can't be the only ones who think he deserved it a little?). Well, in the book Gennaro is a very different character indeed. Actually, he's a bit of a hero in the book: he takes on Raptors using nerve gas!!! Such actions can only be admired.
Dennis Nedry isn't fully to blame for what happened at Jurassic Park
One thing you should probably know about the Jurassic Park book is that there is a bit more to the corporate espionage than in the 1993 film. In the book, Dennis Nedry is blackmailed by Jurassic Park owner John Hammond into making changes to the security system without payment. This then causes Nedry to make a deal with Biosyn (Jurassic Park's parent company InGen's main rival) employee Dodgson to steal the dinosaur embryos. The rest, as they say, is history…
The T. rex river escape
By far the most impressive scene in Jurassic Park is that which sees Lex and Tim battle for their lives as the T. rex destroys their car, eats Gennaro and gives Ian Malcolm a good going over. However, the book has more than just that: how does escaping on a raft down a jungle river with the Tyrannosaurus in chase sound?! Completely omitted from both Jurassic Park and The Lost World, we can only imagine how awesome this scene would have looked.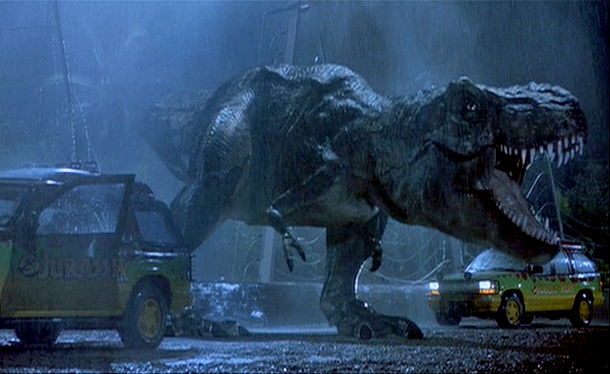 Alan Grant doesn't hate kids
Though it would be hard to believe if you've only ever seen Jurassic Park and never read the book, Alan Grant (played by Sam Neill in Jurassic Park and Jurassic Park III) doesn't actually hate kids at all. In fact, he actually has a strong affinity to children and especially those who show an interest in dinosaurs. This is a stark contrast to how the character was portrayed in the film; remember the Raptor claw scene at the start of Jurassic Park, and the scene where he was trying to escape Tim's relentless questions as they were getting into the Explorers (they are the vehicles in the image above for those who aren't clued up on their Jurassic Park vehicle terminology)?
Ian Malcolm isn't just the comic relief
In Spielberg's Jurassic Park, Jeff Goldblum's character Ian Malcolm is a bit or a wise-cracking, rockstar mathematician with a quick quip for each and every deadly situation. In the book, however, Malcolm is a little less of a comedy rockstar and a little more of a insightful, genius mathematician – and he knew what was happening at Jurassic Park before he got there, unlike in the film! Read the book and you'll also find a lot more detail on Chaos Theory, one of the running themes of the movie.
The ending of the book isn't all sunsets!
Don't worry, we won't be putting in any spoilers here. All we will say is that when you read the ending of the Jurassic Park novel, don't expect to hear the perfectly pitched John Williams score in your mind as a helicopter takes the characters to their much-earned safety. While this is the perfect ending to the film, the book's ending is much less friendly…
There you have it! So, when you're watching Jurassic World when it's released on 11 June, remember that there is a lot more to the goings-on on Isla Nublar than the film would have you believe. To read the book for yourself, visit theBookPeople.co.uk or click on the image below… Clever girl!